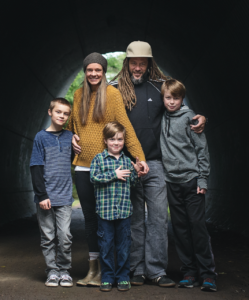 Teacher Mariah Watson was born and raised in Southern Oregon.  She went to college at Point Loma Nazarene University in San Diego and has a degree in Physical Education with an emphasis in physical therapy.  She is a mother of four boys.
She has been part of our co-op since 2007 as a parent, and board member, and since 2011 as a teacher.  She has been in the community since 2002 and before becoming a mother, worked for the Port Townsend school district with special needs children.  She has also worked at the YMCA summer camp, and for a number of years has assisted her husband who is an art teacher and a children's book writer  and illustrator.  In this role she has often worked closely with children at libraries, schools, and in her home.
Mariah enjoys making her classroom fun and inviting.  She makes it her goal to provide an interesting variety of brain-building activities and experiences.  She values the impact art has on brain development and provides the children with many opportunities to paint, craft, and create using many types of materials.  Mariah also loves to play and knows how to spark imaginations.  She will play closely with your children and help them learn appropriate and positive behavior.